Remember this old thing?
viewtopic.php?f=7&t=46871
Well, I'm finally bringing it back. I'm taking Zeekchaos' advice to heart and recreating everything on SA2 PC for Steam, so we will mostly pick things up from where we left off. And since I will be using Fusion's Chao Editor, that means that there will be even more possibilities!
So, for anyone who doesn't feel like reading the original topic, this is basically a little activity I came up with where we raise a Chao Garden together as a sort of group effort. You can make suggestions that can influence the choices I make in the Garden. Here's a list of the suggestions you could make, as listed in the original topic:
-Chao name suggestions! I'd give a description of any new Chao I'd get, and you guys can come up with name ideas! Just make sure they fit in the 7-character limit, and no inappropriate names of course. Or, you can just tell me to take whatever name the Fortune Teller gives me first.

-Evolution suggestions! Similar to the above, but instead suggest what type I should try to evolve the Chao into. First and Second Evolution suggestions are accepted.

-Black Market purchases! Want me to buy a new Chao Egg of a specific color? Want me to buy a hat? A Heart Fruit? A seed? Feel free to suggest that, too! If I don't have enough Rings right away, though, don't be too disappointed.

-Kindergarten! Of course, we have no control over the current lesson, but you can suggest for me to bring any Chao to class.

-Characters! Want me to raise certain Chao as a specific character? Go ahead and suggest that.

-Races and Karate...? This one is slightly iffy, since I already have almost all of the Emblems for these anyway. But, if you still want me to enter a Chao in a Race or Karate, go ahead and tell me. Just keep in mind that I might not actually do it unless the Chao in question has the proper stats.

-Specific Chao interactions! Want me to spoil a specific Chao? Want me to neglect another one for some reason? Want me to completely beat one of the Chao senseless? You monster! But, nothing's stopping you from suggesting this.
And now, here's the NEW stuff!
-Stat manipulation!
Want a Chao to be a good swimmer? Want a Chao's running stat to be completely maxed out? This is now very easily possible thanks to Fusion's Chao Editor.
-Face Manipulation!
Faces can now be edited, and there are more options. For example, you could give a Chao the eyes of a Chaos Chao.
-New color options!
You can now suggest for a new Chao to have any of the colors and textures you can apply in Fusion's Chao Editor.
-More Chao types!
Want an Egg Chao? Omochao? Tails/Knuckles/Amy Chao? These are now possible, too! You can now suggest these options when we add a new Chao to the Garden.
-Glitched Evolutions!
Fusion's Chao Editor gives you an option to go beyond the limitations of Second Evolutions, and you can get some very strange results... Such as this:
And on that note, since I am using the Steam version of this game, that means I can include proper screenshots in my updates!
Here's our current Chao so far: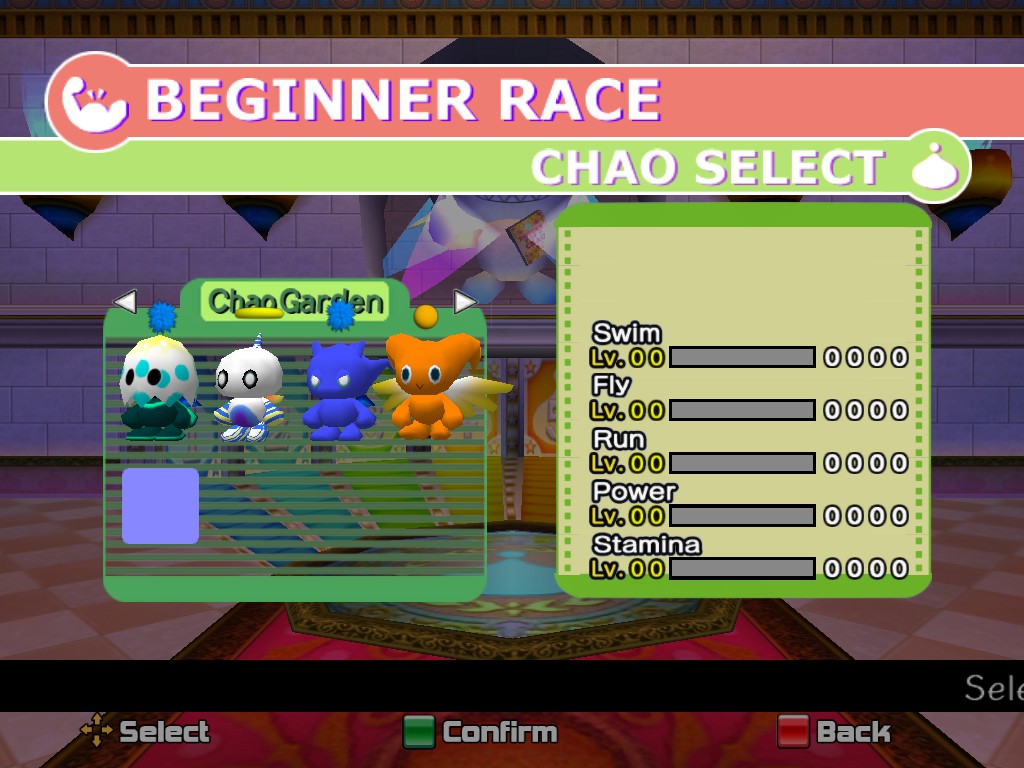 In order: Kosmo, Lettuce, Sonic, and Mango.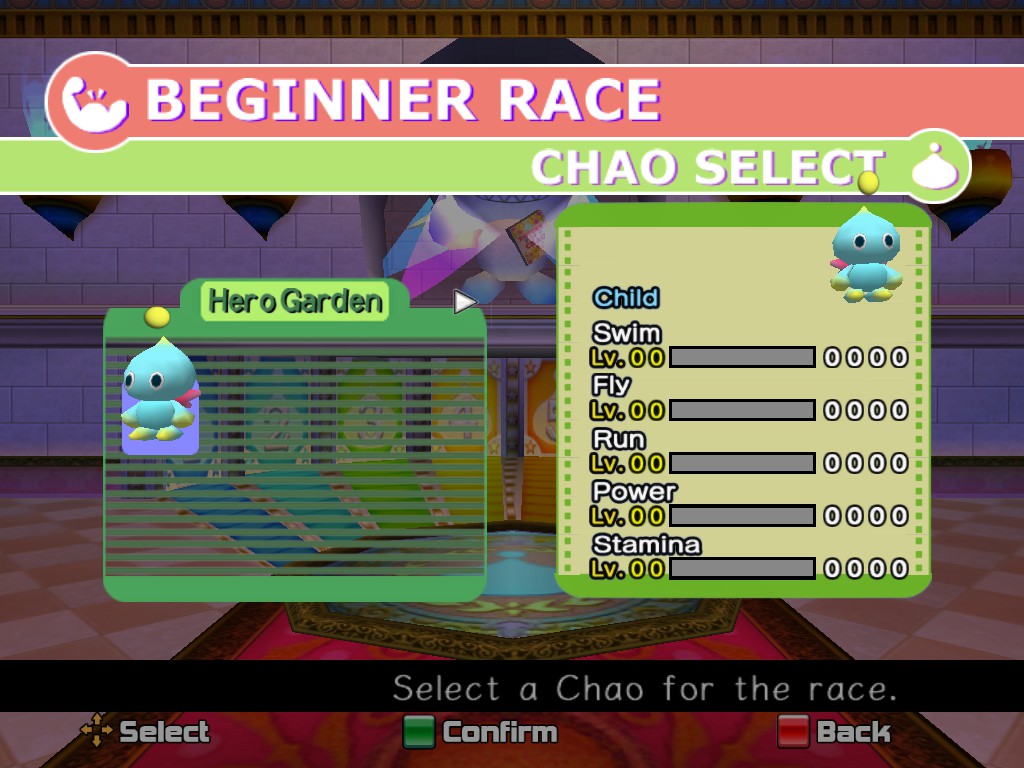 The unnamed Chao from the Hero Garden.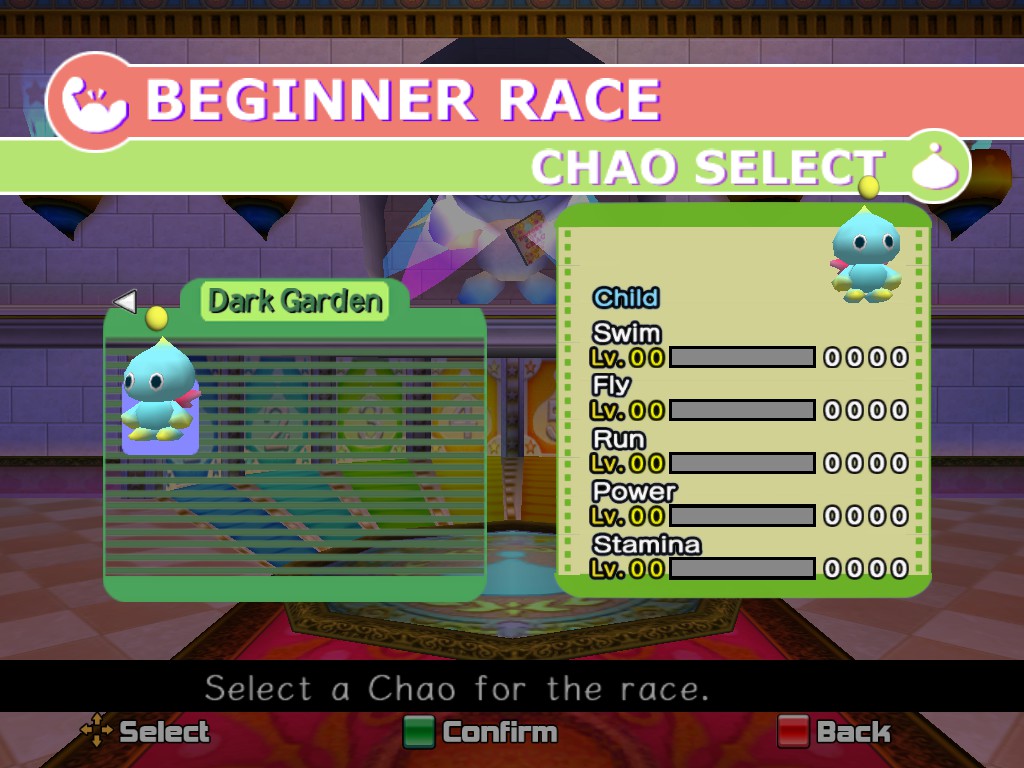 The unnamed Chao from the Dark Garden.
Before we continue, just note that I don't have the Battle DLC, so it seems that Chao Karate won't be possible this time around.
Also, Mango didn't actually evolve in the original topic. I just wanted to have at least one Chao that I could personalize a little bit, I hope you don't mind.
Anyway, suggest away! Hopefully we can finally get some names for those two baby Chao.