Trying to draw Dr. Eggman all the time means being slightly obsessed with his weird little glasses. This subsequently leads to being slightly obsessed with all eye-wear featured in the Sonic series. Hence Knuckles' various sunglasses captured my curiosity.
You know, it's odd given how often Knuckles is shown wearing normal looking sunglasses that in Sonic Riders he would have goggles that wouldn't be out of place on a scuba diving outfit.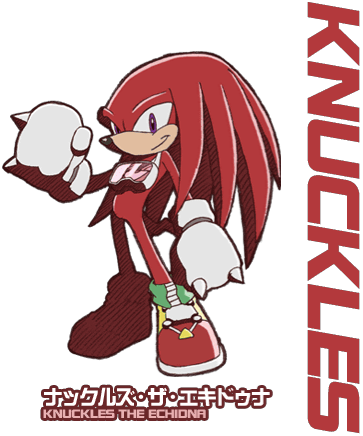 Actually all the goggles and other headgear in the Riders games might be related to the fact that Knuckles' character designer was involved in their production. Maybe Takashi Yuda just has a thing for eye-wear?
It's no mystery as to
why
Knuckles would wear shades. It's well known that he has a low tolerance for sunlight, being a tunneling dude and all, so naturally he would prefer to have eye protection. What's more mysterious is
how
he got all of those different items (minus the SA2 upgrades anyway). Knuckles lives alone on an island suspended in the sky, separated from the rest of the world. Other than some signs of ancient super science, like the teleportation system, Angel Island doesn't seem to have any modern civilization. Where would Knuckles get sunglasses? Did he make them himself? Were they a gift from Eggman? (well, the good Doctor is definitely a fan of stylish eye-wear, so that's not out of the question)
For that matter, where would Knuckles get any of his clothes or stuff like the Tempest and the Land Breaker? It's tempting for me to ascribe ALL of Knuckles modern conveniences to Dr. Eggman or Tails- like I did in an earlier theory- but doing that is kind of a cheap explanation. Maybe Knuckles is secretly a talented engineer or something?
I also wonder why Knuckles' shades seem to have faded from memory, as he isn't seen wearing sunglasses or goggles recently other than in the Riders series. It might just be because Knuckles is out of focus these days compared to Sonic, Tails, and Eggman.
Other thoughts: Usually Knuckles eyes are violet, but sometimes they're blue. I wonder if, similar to Sonic's eyelids changing from the color of his muzzle to the color of his forehead, Knuckles eyelids also change colors...
If Jet, Storm, and Wave appeared in a non-Riders game, would their goggles vanish? The only appearance of the one of the Babylon Rogues outside of their native games is Jet's role as Sir Lamorak in Sonic and the Black Knight, who doesn't count obviously since he wears armor and everything.
Why did Dr. Eggman pull down his goggles that one time in SA2? Wouldn't wearing goggles over a pair of specs be uncomfortable? I thought the goggles were just a fashion statement, like the big white buttons on his pepper jacket.